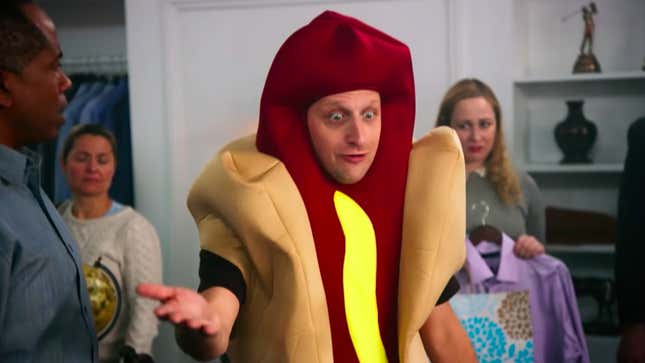 In the span of approximately 48 hours, I've learned of two food-related handbags debuting from U.S. designers. Earlier today, I reported on designer Nik Bentel's Barilla bag, a blue leather handbag designed to look identical to a standard box of Barilla penne pasta. I also received a press release announcing a new ice cream handbag from designer Rebecca Minkoff. Minkoff's bag, which goes live for a giveaway sweepstakes on August 9, isn't actually shaped like an ice cream cone; rather, it's custom-designed to fit a few teeny Magnum bars in a collaboration with the ice cream brand.
So, alright. Here we are. We got a pasta purse. We got an ice cream purse. A few weeks ago, I chatted with a bartender wearing earrings shaped like tiny bejeweled tequila bottles. Meanwhile, my colleague Dennis Lee tells me he used to carry a hamburger-shaped wallet, and my editor, Marnie Shure, sent me a photo of her favorite Dole Whip baseball cap. I don't personally own many food accessories, but I did spend $30 on an oversized t-shirt that simply read "BEANS" last year. (I regret the purchase.) Our fashion sensibilities may vary, but it seems we're all wearing food in some form or another.
This leads to my question: if food is art, and fashion is art, does carrying a hamburger-shaped wallet represent peak self-expression? Do you, reader, own any food accessories, and if so, what are they? Is wearing food an act of defiant whimsy, or just another way to communicate your passion for carbs? Are some food accessories more fun to carry than others, and are they, ugh, office-appropriate? (Pocket square shaped like an avocado, etc.) Finally, can someone make me a Special K cereal purse? I need it for work. Thank you in advance.