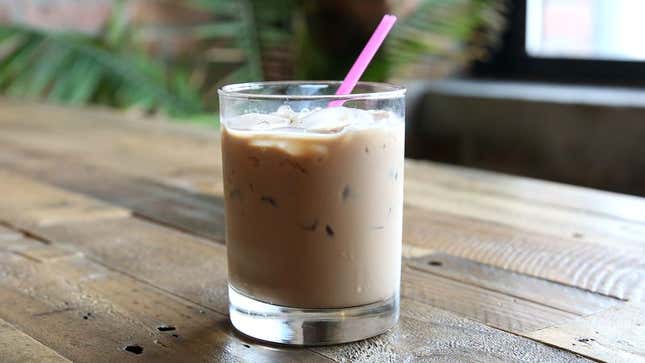 On my one trip to Austin, Texas, I stuffed an unholy quantity of food and drink inside my body. But what stuck with me (psychically)—even more so than Franklin Barbecue, La Barbecue, Micklethwaith, Qui, Uchi, the half dozen migas tacos, and the blur of food trailers—was an avocado-green coffee stand on South Congress called Jo's. A trusted friend said a trip to Austin must include Jo's Iced Turbo drink. This is the coffee stand with "I love you so much" scrawled on the side of the building and Instagrammed the world over.
How To Dispose Of Cooking Grease The Easy Way After Frying
Jo's describes its Iced Turbo as such: "Our signature sweet, creamy, cold coffee drink! Chocolate, hazelnut, coffee, and cream mixed together served over crushed ice." The setting was ideal: a humid spring Texas day, so I opted for the large, 16-ounce cup for $4.50. This legendary beverage turned out to be a drinkable version of Nutella with the smoothness of cold-brewed coffee and the dairy richness of fresh cream.
So I've had Jo's Iced Turbo exactly once in my life, during this one trip to Austin two years ago, and that memory has seared into the taste receptors of my brain. I daydream about it often.
Last week, I decided to devote two hours of my life trying to replicate this drink. There was scant available information online on how to recreate Jo's Iced Turbo, but I began with this one blog post. The writer claims that a Jo's employee revealed the drink contained whole milk, half and half, sweetened condensed milk, coffee, espresso, chocolate, and hazelnut. That's where I began, testing out varying ratios and combinations.
On batch number seven, something clicked. It triggered the same pleasurable memories from that spring Texas day two years ago. Also, my heart was palpitating from the flood of caffeine coursing through my bloodstream. But I think I nailed it, or at the least, something close. Enjoy, until your next trip to Austin.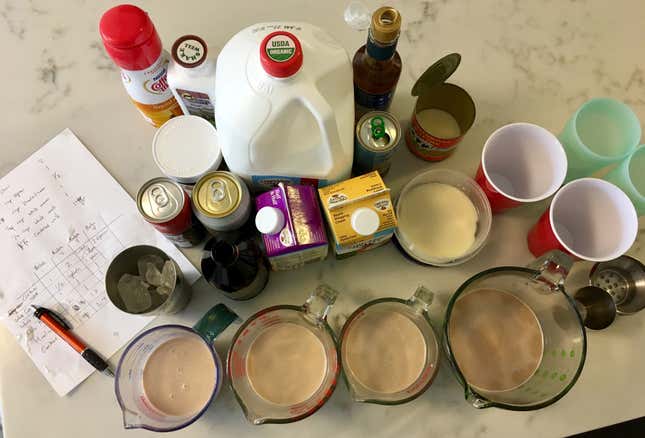 Homage to Jo's Iced Turbo
1. In a large measuring cup, mix espresso, coffee, hazelnut syrup, and whole and chocolate milk. Separately, in a small cup, add a splash of hot water to a generously heaping tablespoon of condensed milk, and stir until it's liquid. Add condensed milk to the other ingredients.
2. Whisk the concoction for 30 seconds. It will feel slightly thicker, but not frothy. Alternatively, add to a cocktail shaker and shake vigorously for 15 seconds.
3. Pour into a glass filled with crushed ice, stir, and let dilute for a minute before you enjoy this god of iced coffee drinks.