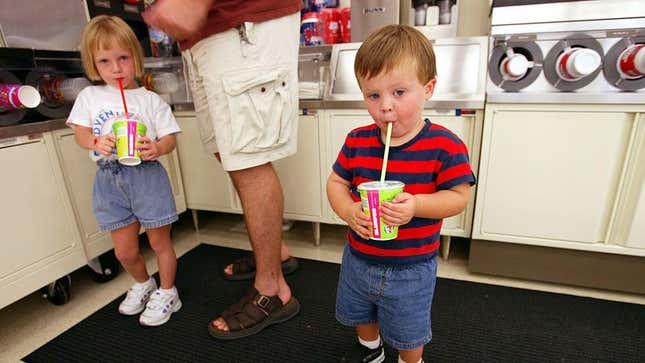 Month-long celebrations are the best. Take June, for example, which coincides with LGBTQ Pride Month and my hometown grocery's annual Discount Pork Fiesta. Now, in lieu of 7-Eleven's annual Free Slurpee Day (usually celebrated on the brand's birthday on July 11), the chain is drawing out the fun with an entire Free Slurpee Month. Unfortunately, that doesn't mean you'll get a month's worth of free Slurpees in July. One per customer, kids.
This is the Best Dairy Substitute for Your Morning Coffee
Some background: you might recall that last year's Free Slurpee Day was cancelled due to pandemic safety concerns. But now, to make up for missing last year, 7-Eleven is celebrating its 94th birthday for the whole month. But you can't just walk in and demand your free Slurpee. As Food & Wine reports, starting on July 1, 7-Eleven will add a coupon for one free small Slurpee to all 7Rewards loyalty app members. You can redeem yours any time during the month of July in what the chain refers to as a chance "to party on [your] own time and stay safe." My guess is that, worried about the unmasked masses flocking to stores, the brand decided to stretch things out a bit.
Anyway, when you stop in to redeem your freebie, you can go with a classic Slurpee flavor, or you can opt for one of this year's seasonal picks: VitaminWater Zero Sugar Gutsy (insane name, but it appears to be a Watermelon-Peach blend), Pineapple Whip, or Blueberry Lemonade. If one isn't enough, you can also score a small Slurpee and any grill item for just $1 each throughout the month of July. Hats off to 7-Eleven's marketing team; they've managed to spin in-store social distancing into a month-long celebration. Of course, it's no Discount Pork Fiesta.