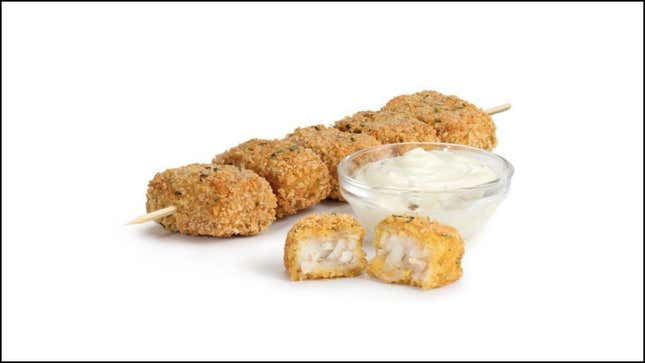 If The Takeout operated in Victorian England, I'd be the grimy little newsie standing on the corner screaming about fish news. ("Oi, mista! 'Eer's some fish news for ya! Spare a coppa'?") But we're in 21st-century America, so I can just type that there's a new fast fish option in town: 7-Eleven just dropped Wild Alaskan Pollock Fish Bites.
This Is Your New Favorite Salmon
According to a press release, the Fish Bites consist of "five bite-sized morsels of herb panko-crusted Alaskan pollock filets served on a skewer with a side of tartar sauce for dipping." The release explains that the Fish Bites were created "for customers who are looking for a meat alternative during the Lenten season." Anjuli Wilkie, 7-Eleven's senior category manager of hot food, writes:
"We got such great reviews on the Alaskan Pollock sandwich last year, we knew we had to bring back a seasonal fish option for our customers in 2021. Because we're all about convenience and offering delicious, easy-to-eat food, Fish Bites is the perfect grab-and-go option."
As we know, I'm down to eat fast fish year-round. Unfortunately, the Fish Bites will be only available at participating U.S. stores while supplies last. If you're interested in sailing the briny 7-Eleven seas, you can try the new menu item via the chain's Fish Fridays deal: every Friday, you can get five Fish Bites for $3 through the 7Rewards loyalty program in the 7-Eleven app. That's approximately 1.6 fish bites for a dollar. With those savings, you can buy yourself a whole lot more fast fish to round out the Lenten season. A blessed day, indeed!