Pick Six is The A.V. Club's monthly recommendations for the beers we're currently digging.
On June 2, it came to light that one of the longest-running beer review sites, RateBeer.com, had sold a minority stake to Anheuser-Busch InBev's venture capital arm, ZX Ventures. As if that weren't upsetting enough to beer nerds, the sale went down in October, but Rate Beer didn't announce it until after an article outed the move. This added fuel to the anti-AB InBev fire that had been burning brighter than ever after everything that happened in May (especially its acquisition of Wicked Weed Brewery).
The fallout was swift. Breweries started making public requests to be removed from Rate Beer. Rate Beer refused. Some beer writers even tried to backwards engineer the Rate Beer "Best Brewery" rating formula to explain some sketchy results.
As Rate Beer's esteem among craft beer diehards plummeted, it seemed clear that ZX Ventures' best October investment was actually in the Conde Nast-owned beer blog, October. That site launched at the end of January 2017 as the music website Pitchfork's foray into beer writing with the mission of "falling for beer." (Ironically, October is "executive produced" by Good Beer Hunting, the brewery consulting firm that first exposed the Rate Beer sale on its website. Good Beer Hunting is better known for its website, a Kinfolk-for-beer styled blog, than the extensive branding work it has done for a slew of breweries including AB InBev, SAB Miller and Samuel Adams' imprints.)
G/O Media may get a commission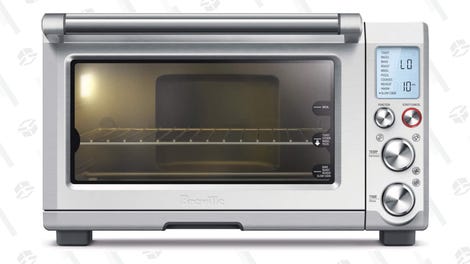 36% Off
Breville Smart Oven
So to summarize: Independent breweries are mad that a user-rating website took a big investment from AB InBev, but no one would know about that investment if another website that's benefited from AB InBev hadn't exposed it. That's where we are with beer in the middle of 2017: AB InBev's beer-journalism portfolio is swallowing its tail.
As I was writing this column, the Brewers Association announced a new seal to designate independent craft breweries. Here are six beers that don't have the seal yet, but could proudly display it in the future. Yes, there's a lot of IPAs this month. Come at me, bruv!
Stone Brewing (Escondido, California): Ghost Hammer IPA
One of the strongest holdouts from corporate takeover, this San Diego stalwart makes far more IPAs than any other style (especially since it spun off Arrogant Bastard Ale to be a separate company in 2015). Ghost Hammer proves there is still undiscovered country when it comes to hops—evoking floral lavender notes rather than pine or citrus. If its alternative to corporate takeover (Stone Brewing owner Greg Koch launched a $100 million investment fund seeking minority stakes in craft breweries called True Craft) is as successful as this beer's flavor, Stone will be around and independent for a long time to come.
Bell's Brewery (Kalamazoo, Michigan): Two Hearted Ale

This beer was created back when putting "IPA" in a beer name wasn't a shortcut to brisk sales for new breweries. No, this classic brew lets a Michigan-centric Hemingway reference, word of mouth, and a painting of a trout do the selling. Over the years that has proven to be enough: Two Hearted regularly appears near the top of "best beers in the world" lists, especially amongst home brewers. And for good reason: The pronounced hop flavor packs a wallop and a decent amount of bitterness, but the pleasant aftertaste makes the workmanship undeniable. It just tastes special. The fact that Bell's is able to keep such an amazing beer in steady supply in 30 states is remarkable. That the company has remained fully family-owned while achieving that is astounding.
Oskar Blues Brewery (Lyons, Colorado): Fugli IPA
The brewery that made cans cool for craft beer threw its lot in with a group of private equity investors called Fireman Capital in 2015 to form an entity called United Craft Brews. That sounds pretty ugly for a brewery that made its name on a down-home, ski-bum, hippy vibe. You would think an IPA called Fugli would also be a pretty raw deal, possibly featuring insane bitterness and off the charts IBUs (International Bittering Units). In both cases, you'd be wrong. In the case of the beer, Fugli is a fruity IPA made with yuzu and ugli fruit (a Jamaican citrus fruit) that brings out unexpected blueberry flavors in this very drinkable concoction. In the case of United Craft Brews, it also acquired Florida's Cigar City Brewing and Michigan's Perrin Brewing. And it didn't stop Oskar Blues from printing "Yu Zu Ugli" across the top of this can and "You Ain't Got No Alibi" on the bottom, so things must be going well, right?
Uinta Brewing (Salt Lake City, Utah): Ready Set Gose
When Uinta sold a big part of its company to a private equity firm in 2014, craft beer industry watchers trained their eyes on the 21-year-old brewery, watching for signs of compromise. The quality of the beer has remained high, just like the graphic design that makes Uinta labels stand out. Ready Set Gose is no exception—a pleasingly tart wheat beer that squeaks under the Utah Alcohol By Volume limit of 4 percent ABV. This year Uinta expects to produce more than 100,000 barrels of beer for the first time, though its beer has as much personality as an iPhone—slick, pleasing, and fully functional, even if it's lacking in the soulfulness department.
Rogue (Newport, Oregon): Pendleton Pale Ale
For the most patriotic month of the year, there are plenty of options out there: Budweiser's rebranding as "America," Surly and Prairie's "Merica" beers, and Hop Butcher's Alemerica The Beautiful, among countless others. But with the changes our country has endured this year, simple flag-raising doesn't feel appropriate this summer. That's why I'm recommending Rogue's special National Parks cans of Pendleton Pale Ale instead. Because, let's be honest, sometimes the look of the can is the deciding factor in what beer you pull out of the cooler at a backyard bash. These cans offer two layers of distinctive design—first the stripes used in Pendleton's National Park inspired wool blankets adorn the sides of the can, then a vintage-style insignia of either Crater Lake, Yosemite, Mount Rainier, or Grand Canyon National Park is placed front and center. The beer is a good pairing for these American natural wonders: full of Pacific Northwest terroir thanks to ingredients grown on Rogue Farms in Oregon, but basic enough not to compete with the existential awe of the Grand Canyon. When our democratic experiment in self-governing is thrown into question, celebrating what existed here before us seems appropriate. Of course if you want to dig deeper into it, the co-branding, attentive P.R. (which is how I got a can of this), and Nike background of Rogue's founders makes this a more cynically all-American brew, too. But don't bring that up at the party or folks might think you're a downer.
Noon Whistle Brewing (Lombard, Illinois): Gummypocalypse
As New England IPAs have become the most sought-after style of beer among beer geeks, I've made a habit of ordering the style anytime I'm out and there's one available. The hazy, juice-flavored, hoppy-without-bitterness concoction doesn't have much of a shelf life and demand generally outpaces supply, so by the time you've heard of a good New England IPA, chances are it's either sold out or there's a line of people camping out to buy it. If I ever see it again, I'm definitely having another Gummypocalypse, but I bet any of Noon Whistle's Gummy line of beers would be good. True to the emerging style guidelines, this beer tasted a lot like orange juice and had very little bitterness. The only problem with it is that it goes down so easily for an 8.2 percent ABV beer that you could get a little more "gummy" than you intended.
---
If you have a brew you'd like considered for Pick Six, send us an email at avclubbeer@gmail.com.