You've decided to throw a dinner party. It's time to have people over, because you have something to celebrate, or because it's been too long, or simply because you've been dying to cook a whole chicken and you just can't justify doing that for no one but yourself. You want to make pretty cocktails and put out fancy cheese beforehand and buy dessert wine and wear a fun apron. And of course, you want to show off a little. Who doesn't? Who among us does not desire to prove that we are grown adults who can throw dinner parties because we absolutely have our shit together? Then the day arrives and it's all delicious, but you're sweaty and the napkins have snowmen on them and you forgot the dessert wine and why, why don't you have enough forks?
Throwing a dinner party can be pretty daunting, and it rarely looks like it does in the fancy-ass magazines. Still, I know it's possible, because I've seen it done. For example, Elise Mayfield is an assistant food stylist for Meredith Corporation, the media conglomerate that includes publications such as Food & Wine, Real Simple, Martha Stewart Living, and other intimidatingly domestic brands.
Obligatory disclosure: Elise is also a close friend of mine, which is how I know she throws a hell of a dinner party. As a cook, she's playful and inventive; as a party planner, she's got a knack for making everything lovely and charming without ever crossing into showboating territory. She was also kind enough to speak with me about five simple tips for making your dinner party look like it's ripped from the pages of one of those domestic bliss magazines. So I poured myself a glass of sparkling wine in a mason jar—a customary Mayfield beverage setup—and robbed her of her knowledge.
---
Tip #1: Consider the lighting
G/O Media may get a commission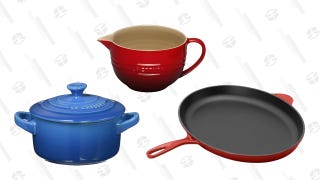 Up to 33% off
Le Creuset Enameled Cast Iron and Stoneware
First off, Mayfield says: "When we are shooting in the studio, lighting is what transforms the food. We can put out a dish, and I'll be thinking, 'Wow, I don't know how this is going to look,' and then the light changes and suddenly it's perfect."

Although you can't throw a dinner party in a professional photography studio, you can approximate the effect in your home by using light from multiple sources. Mayfield suggests lighting votives around the room, using a dimmer (if you've got one) to soften the overhead light, and turning on floor and table lamps with soft bulbs. Or, "go ahead and use the old scarf-over-the-lampshade trick," she adds. "Just like with movie stars, soft, warm light can cover a multitude of sins, in food and in life." (But please watch those open flames, as they're also fire hazards.)
---
Tip #2: Spring for glass, linen, and flowers
This one is really like three tips in one, but they all stem from the same basic principle: It's possible to do fancy things on the cheap, and well worth the investment.

First, flowers. Even just small vases of flowers, something seasonal, or whatever's on sale. "Maybe a dozen flowers total… Bringing something natural into the space really makes it feel like more of an occasion."

Next, linens. "Invest in a set of cloth napkins, because that really sets the tone." Mayfield suggests getting an inexpensive set from Amazon or Target.
Finally, glassware. "You really can do this on a budget," she assures me. The important thing is keeping plastic off the table—serving ware, glassware, plates. You can get nearly everything you need from thrift stores, at a fraction of the price. Mayfield advises, "Everything looks great on white, so if you can get your hands on white plates, even from different sets, it'll make your food look great. The color alone will make it look fancy."
If you want to try a higher difficulty setting, "you can also mismatch dishes and serving-ware. Thrift it up. They can be perfectly mismatched. Decide on a color palette—your plates can be blue, and a coral color, and white, but as long as it looks purposeful, it'll look great."

Also, treat the table as part of your prep work, and have the table set before guests arrive. Not only does this save you from having to do this task later, it'll give your friends "a feel of what's to come."
---
Tip #3: Don't forget the garnish
As a food stylist, Mayfield knows that "everything looks better with a little something on top." So if you're making a dish and there's some kind of herb in it, add a little bit of that on top before serving. And don't underestimate the picturesque power of a little olive oil, salt, and pepper. "If you've done something as simple as a roasted potato, a drizzle of beautiful olive oil and some coarse salt and freshly ground pepper really make that dish look even more delicious. It's really the finishing touches that elevate and make it all sing."

---
Tip #4: Make a house cocktail
A house drink feels fancy and festive, looks great, and makes for a celebratory start to the evening. Mayfield advises that if you to make a big batch of your drink a day ahead of time and chill in the fridge. "Then right before the guests arrive, add whatever bubbles you're using, to keep that nice effervescence."

You can also designate one of your guests who would enjoy having a job to play bartender for the evening. "They get to help and you get to keep control of your kitchen."
Combining this tip with the previous one, Mayfield shares a technique for making the perfect citrus twist garnish: "Wrap [the peel] around the handle of a wooden spoon, then put a piece of aluminum foil over it and put the whole thing in the freezer." Take it out later, and you've got a perfect curlicue that stays curly. This is especially useful, she says, if you've got to make a bunch of them—and it's another thing that can be done in advance. (She even gave us her favorite recipe, below.)
---
Tip #5: Think seasonally
This might seem like a no-brainer, but there are benefits beyond getting what's cheap, available, and most likely to taste good. More importantly, Mayfield stresses, you should treat seasonal fruits and vegetables like they're the stars of the show. "You can really do yourself a favor by picking some seasonal things to feature. In fall, you could be using some beautiful acorn or butternut squash; in spring, beautiful peas or ramps. You can take an everyday dish to the gourmet realm by featuring something you can't get year-round." Especially in fall and winter, she says: "If you've noticed that everything you're cooking is delicious but is also brown—it happens—then produce and garnish are going to be the things that make it look appealing. A citrus salad in the middle of winter feels like such a gift, and it allows you to bring out those pops of color."

---
Two not-to-dos
Mayfield also offers two things to avoid. First, she says, don't overestimate how much people will eat, and make sure to leave room for what's to come. "Make sure that you keep your servings small, so that people don't feel overwhelmed or bad about leaving food on the plate."

Second, she says, "Do yourself a favor and cook like a chef—mise en place." By that, she means getting as much done as you can in advance, including organizing your ingredients you'll need to use. "Set yourself up as best you can. The last thing you want to do is to make it so that you don't even enjoy your own dinner party."

I expected Elise Mayfield to tell me to glaze things, to use cake decoration tools, to do all manner of fancy things with cheese. Not necessary, she says; thought, preparation, and consideration of tone are far more important. That, and making sure your house cocktail doesn't get everybody toasted before the hand-pies come out.
---
Elise Mayfield's Apple Peach Bourbon Punch
Serves 15
1/4 cup simple syrup

1 cup peach nectar

1 cup apple cider

1/2 cup bourbon

1 bottle sparkling wine

1 sliced peach for garnish

Combine simple syrup, peach nectar, apple cider, and bourbon. Chill for two hours. Right before serving, pour in bubbly and stir to combine. Garnish with fresh peach slices.