Last Call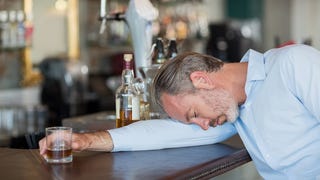 Last Call
Last Call is The Takeout's online watering hole where you can chat, share recipes, and use the comment section as an open thread. Here's what we've been reading/watching/listening around the office today.
---
Guy Fieri on The Tonight Show
Guy Fieri went on The Tonight Show and brought Jimmy Fallon a burger monstrosity, the kind that arrives at your table and prompts an "oh shit" from everyone seated. He explains that there is a move—"The Hunch"—that Fallon must master to eat it. It involves "cradling the buns." [Kate Bernot]
---
What's not to love about Solo?
Sometimes, I just don't know what the people are on about. I know there's a lot of hue and cry after this box-office weekend that Solo didn't do as well as previous Star Wars outings. Yes, maybe we're in a bit of an overload—back when I was a kid we had to wait years to find out how it came to be that Darth Vader was Luke's dad, with no spoilers or chat rooms to discuss it, either! But our current SW prevalence did not distract from my enjoyment of this movie, basically Star Wars as a lost-love dusty western, with the bond between Han and Chewie set up as the most solid in the entire galaxy. Sure, Woody Harrelson may be a bit overplayed after all the Hunger Gameses (I still enjoy him) and one character may owe a bit too much to Rocket The Raccoon. But I found Donald Glover's Lando frickin' delightful, and Alden Ehrenreich's interpretation of the young Han Solo almost spookily spot-on. Don't go in expecting the Citizen Kane of Star Wars movies or anything and enjoy yourself. Solid B from me. [Gwen Ihnat]
---
Harry Anderson on Letterman
I've never seen an episode of Night Court. I guess that's how most of America know of Harry Anderson, who starred as the Judge Harry Stone on the hit NBC show. How I knew of Anderson—who died in April—was through his career as a magician. Some enterprising YouTuber spliced Harry Anderson segments from five Letterman appearances, and there is magic and shenanigans aplenty. [Kevin Pang]
G/O Media may get a commission