Last Call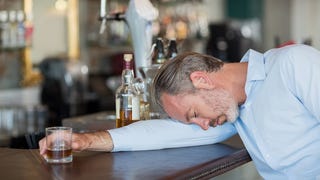 Last Call
Last Call is The Takeout's online watering hole where you can chat, share recipes, and use the comment section as an open thread. Here's what we've been reading/watching/listening around the office today.
---
What would you do with a leftover pork bone?
I'm making a garlicky Cuban-style slow-cooker pork shoulder today—yeah, my kitchen smells amazing right now—but what to do with this leftover shoulder bone? I'm thinking of simmering it with onions and carrots and all that for pork broth, but then what to do with that delicious, porky liquid? Tell me all your tastiest ideas. [Kate Bernot]
---
American Airline's safety video
I've been traveling quite a lot these last few weeks for work. I typically fly American Airlines, and each time I'm on a plane they pull off something impossible—they make me pay attention to their safety video. How? It's splendidly choreographed, with theatrical moving set pieces that'd make Julie Taymor proud. And get this: This video is directed by Jeff Tremaine, most famously director of the Jackass movies. Here's a behind-the-scenes video of how they made it.