Last Call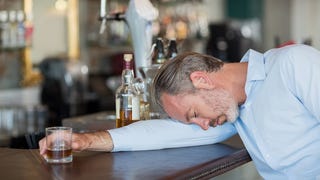 Last Call
Last Call is The Takeout's online watering hole where you can chat, share recipes, and use the comment section as an open thread. Here's what we've been reading/watching/listening around the office today.
---
Punkpost
I love snail mail: choosing cards, writing them, receiving them, every bit of it. So I'm conflicted in my feelings about Punkpost, an app/service that hand-writes and mails cards for you. It's neat that the company works with letterpress artists and has real, live people writing out your cards. On the other hand, isn't that the fun part of sending letters? I guess anything that's keeping the postal service in business is worth celebrating these days. [Kate Bernot]
---


The Woman In The Window
On my (long) list of new year's resolutions is "read more books," as I spent entirely too many 2017 evenings retiring with a Twitter feed or Words With Friends game instead of unplugging not just from electronics but from reality for awhile. So I am pleased to kick off 2018 with a gripping bestseller (I'm sure it's available on Kindle, but I am enjoying the old-school tangible flipping of pages). I am a total sucker for suspenseful page-turners that usually turn into extremely dark movies, like Gone Girl and The Girl On The Train. The Woman In The Window is totally in that vein, and takes its inspiration from the Hitchcock movies I love so well, even leading off with a quote from Hitchcock's own favorite movie, Shadow Of A Doubt.
In this astonishing debut from A.J. Finn, Anna Fox is recuperating in her Harlem townhouse where she has little to do but spy on the neighbors, à la Rear Window. Naturally, she witnesses a crime. But, unlike Rear Window's homebound photographer Jeff, Anna is a completely shaky witness, as she drinks heavily and pops pills; said The New York Times book review, "Dear other books with unreliable narrators: This one will see you and raise you." So undoubtedly it'll take some unraveling over the next several chapters to figure out what the actual story is. I can't wait. Just hope it doesn't keep me up nights. [Gwen Ihnat]