Chicago gave America improv comedy, the notion of long-suffering sports franchises, Playboy, the meatpacking industry, the Ferris wheel, urban architecture, comic book gangsters, Wilco, the album art for Wilco's Yankee Hotel Foxtrot, Muddy Waters, and Barack Obama. The list can go on another 500 items. But it's Chicago's food innovations that have traveled the farthest outside city limits. You have us to thank (or scorn) for the following.
---
1. Chocolate brownies
Sometimes, when the wind is blowing just right, the River North neighborhood of Chicago smells like chocolate, wafting in on the breeze from a nearby factory. It's a fitting tribute to Chicago's rich, gooey history of baked goods, most notably the brownie, which was invented at the Palmer House Hotel at the turn of the 20th century. Like many great Chicago innovations, the creation of the brownie coincides with the World's Columbian Exposition of 1893, whose organizers asked Bertha Palmer, the wife of the hotel's original owner, to create a portable dessert for boxed lunches. Bertha's original recipe—which you can still eat at the hotel restaurant—calls for crushed walnuts and an apricot glaze, but in its century and a quarter of existence, the definition of the brownie has expanded to encompass hundreds of different fillings, glazes, toppings, and textures, from fudgelike to practically cake. Some even have secret ingredients that give them magical properties—or so we've heard. [Katie Rife]
---
2. Flaming saganaki
It's the inescapable table-side custom found at Greek restaurants across America: the head-turning stunt of lighting a sizzling plate of cheese afire, while the server yells "Opa!" The consensus, according to the oral history manager at the National Hellenic Museum, was that the tradition was born at The Parthenon on Chicago's Near West Side. Brothers Chris and Bill Liakouras opened the restaurant in 1968 and, at the suggestion of a customer, thought they could cash in on the theatrics of lighting a plate of cheese on fire. They were right. The brothers took Greek kasseri cheese, fried it, plopped it on a plate, doused it with brandy, and lit the whole thing afire. The Parthenon closed in 2016 after 48 years in business, but hundreds of Greek restaurants are, literally and figuratively, carrying the flame. [Kevin Pang]
G/O Media may get a commission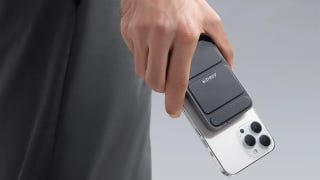 15% off
15% off Anker Top Ten Products
Take charge
Treat yourself to a portable power bank, a magnetic wireless battery for iPhones, or even a solar generator. There is a reason these are in the top ten. For instance, the Anker 747 Power Bank is a 4-in-1 charger utilizing USB-A and USB-C to be capable of charging up to four devices at once. Great to take with you when traveling and in need of keeping your phone, laptop, and even Nintendo Switch powered on.
---
3. Cracker Jack
The caramel corn and peanuts mix is forever associated with baseball, overshadowing its birth home—Chicago. German immigrant Frederick William Rueckheim began making popcorn on the city's Near South Side in the 1870s. Eventually, he and several business partners stumbled on a method to make molasses stick onto popcorn. It wasn't until the snack was referenced in "Take Me Out To The Ball Game"—written in 1908—that it became a phenomenon. Prizes such as rings and temporary tattoos were added to the snack mix in 1912, a tradition that lasted more than 100 years (the prizes are virtual now). [Danette Chavez]
---
4. Deep-dish pizza
If you play word association, this will always be the answer to the prompt "Chicago food." For better or worse, Chicagoans are inextricably linked to this fork-and-knife pizza variant. The true inventor of deep dish will always be in dispute (Ike Sewell or Rudy Malnati, sometime in the 1940s), but one certainty is that every Chicago tourist will make the obligatory pilgrimage to either Pizzeria Uno, Gino's East, Giordano's, or Lou Malnati's. The funny thing is many native Chicagoans don't really eat deep-dish pizza, preferring a thinner sausage-and-cheese pie with a cakelike crust, cut into squares rather than triangular wedges, that's known to locals as tavern-style pizza. You want real Chicago pizza? Head to Vito & Nick's. [Kevin Pang]
---
5. Chicago-style hot dog
On the city's South Side is Maxwell Street, and at the turn of the century it was a hub for the city's Jewish population. This was where the Vienna Beef Company was originally located and sold its kosher dogs, which became the hit of the World's Fair in 1893. It wasn't until several decades later—around the time of the Great Depression—that the Chicago-style hot dog coalesced into the specific assemblage it is today. In an effort to stretch out a hot dog into meal, an assortment of vegetables and condiments were added to the sandwich. Now, asking for a hot dog "dragged through the garden" means getting a beef wiener with white onions, relish, sport peppers, tomato half-moons, a dill pickle spear, mustard, and celery salt, all nestled in a steamed poppy seed bun. (If you substitute even one ingredient, it's no longer a Chicago-style hot dog.) It sounds like a mess of ingredients, but something about that combination works—you get a melange of textures and flavors that turn a ho-hum hot dog experience into something more stately. [Kevin Pang]
---
6. Italian beef
Here's another Depression-era sandwich that transformed an expensive ingredient into its bulkiest, most-filling self. To this day, there remains a dispute as to who invented the sandwich, but most Chicago food historians point to either Pasquale Scala or Tony Ferreri, sometime in the 1920s. Both claimed to have shaved roast beef rounds into paper-thin slices, served it in a roll, and dipped the sandwich in the beef's pan juices to give it heft. Unlike most sandwiches, sogginess is a virtue in an Italian beef, though its wetness varies; it can come dry (no "jus"), dipped (dipped in a vat of "jus"), or wet (positively soaked in the fatty liquid byproduct of slow-roasting the beef flavored with Italian herbs). Once dipped, it's served with either sweet peppers or the pickled spicy vegetable relish giardiniera. The soft French bread containing the sandwich is also susceptible to falling off in wet chunks as you eat, making this an extra-messy, and not terribly portable, dish. [Kevin Pang]
---
7. Jeppson's Malört
Depending on who you ask, Malört is either the most Chicago thing ever or the worst Chicago thing ever (there's also a third contingent that believes both statements are true). Jeppson's Mölort is the most prominent purveyor of this wormwood-based schnapps (by way of Sweden) and has therefore become synonymous with Chicago. The taste of Malört has been described as everything from "unpalatable" to "god awful"; John Hodgman, who now regularly takes a swig on stage when he's in town, says the flavor is reminiscent of "pencil shavings and heartbreak." For those and other reasons, Malört is not a shot you nurse—it goes down the hatch to erase the memory of a bad day or brace yourself for a trek into the Midwestern tundra. [Danette Chavez]
---
8. Gyros
It's pretty obvious, if you think about it, that gyros as we know them probably aren't authentic Greek cuisine. But, as it turns out, this Greek-American fast food innovation has an even more specific provenance. Yes, they're based on ancient Mediterranean recipes like the doner kebab, but the first gyro in the United States was supposedly served in Chicago in 1965 at the Parkview Restaurant by one George Apostolou. That's what Apostolou says, anyway, though his competitors would naturally disagree. A 2009 New York Times article traced the first commercially manufactured gyro cone to a Milwaukee man named John Garlic, but that's in the past. The company responsible for shipping the most gyros cones to corner grills across America is Kronos Foods of Chicago suburb Glendale Heights. The company is also responsible for standardizing production of the "meat wheel." Now, the slick lamb-beef slabs coated in garlicky yogurt sauce and wrapped in a griddle pita are a ubiquitous presence in the city's fast food joints—and beyond. [Katie Rife]
---
9. Chicken Vesuvio
No, the recipe didn't originate here. Roasted chicken with garlic and potatoes, doused with a lemon, white wine, and olive oil sauce, has roots in Southern Italy and is readily found in American cities with a large Italian populace. But Chicago can lay claim to marketing it as Chicken Vesuvio—the restaurants Gene & Georgetti and the now-gone Vesuvio helped popularize it—and today the city and dish are forever intertwined. Now, any Italian joint on Taylor Street or steakhouse in the River North neighborhood worth its salt will have these crisp bone-in chicken beauties on the menu. [Kevin Pang]
---
10. Twinkies
In 1930, James Dewar, a manager at Continental Baking in Schiller Park, Illinois (in the shadow of O'Hare Airport today), came up with the idea of filling his cakes with cream and sugar. Dewar saw a billboard for "Twinkle Toe Shoes Co." and decided his snack concoction would be called Twinkies. It became a hit, and after serving as a sponsor on the 1950s children's television show Howdy Doody, Twinkies became a household name. Dewar, who died in 1985, was said to have consumed Twinkies every day. [Kevin Pang]
---
11. Wrigley chewing gum
William Wrigley Jr. moved to Chicago from Philadelphia in 1891. He noticed the promotional sticks of gum he gave away were more popular than the soaps and baking powder he was selling. Wrigley decided to turn his attention to chewing gum, and by 1893, he introduced two gums to the market—Spearmint and Juicy Fruit. Wrigley's bet paid off. He would go on to create memorable promotional campaigns, such as the time in 1915 when the company shipped sticks of gums to every address in the phonebook, coast to coast. The gums that were born in Chicago are now sold in 180 countries. [Kevin Pang]
---
12. Jibarito
Long before KFC was trying to reinvent the sandwich wheel by substituting chicken breasts for buns, Juan C. Figueroa began serving the jibarito at his Humboldt Park restaurant El Borinquen. Fried plantains that have been pounded flat and toasted to perfection serve as the base or "bread" of this delicious sandwich. That's the real ingenuity of this sandwich, which otherwise has classic fillings: various meats (usually steak), tomatoes, cheese, lettuce, and a garlic mayo. Several Humboldt Park restaurants serve the jibarito; in our experience, Borinquen's is especially well proportioned. But if you don't mind making a bit of a mess, you can always build a towering model in the comfort of your own home. The name is a Spanish word that once meant "rube" or "provincial," but whose modern usage is steeped in cultural pride. There's some dispute over whether the idea of the jibarito was imported or exported, but we presumably all agree that it pairs best with yucca fries. [Danette Chavez]
---
13. Lemonheads
Suburban Chicago confectionary company Ferrara is responsible for the creation of a handful of all-American candies, including Red Hots, Atomic Fireballs, and Boston Baked Beans, but its most ubiquitous invention is the Lemonhead. These movie-theater favorites—invented in 1962—consist of a hard sugar coating over a soft lemon shell over a piece of hard candy, created using the same technique as Red Hots (invented three decades earlier). Lemonheads are best enjoyed by sucking off the outer layer of sugar and coating the tongue before biting down on the lemon candy inside so the sweet and sour flavors combine in your mouth like lemonade. Also sweet and sour is the Lemonheads origin story; the candy was inspired by Ferrara Pan founder Salvatore Ferrara's grandson, whose head was squished into a lemonlike shape by the forceps used to assist in his birth. [Katie Rife]