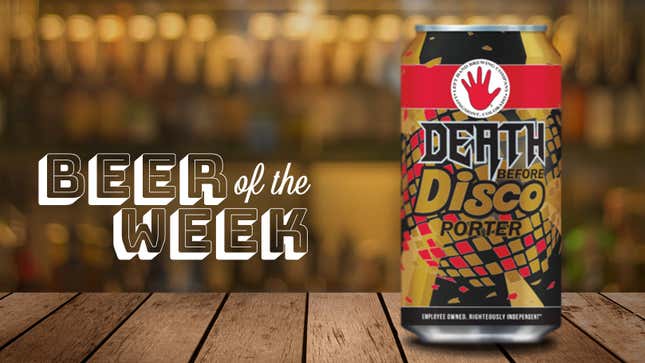 I'm a fan of drinking seasonally—a crisp kolsch during a backyard grilling session, a brawny imperial stout in the depths of winter—except when I'm not. Sometimes, I find a wonderfully tasty beer that's just not quite in line with the seasonal trend, and I'm reminded that a sturdy porter can be just as delicious in spring as it is on a crisp fall afternoon. (I'm not advocating for beach barleywines, but you do you.)
All the Best Finds at the Sweets & Snacks Expo
I'm wearing my "drink whatever you like, whenever you like" hat as I recommend this week's beer, a solid new year-round porter from Longmont, Colorado's Left Hand Brewing. You might know Left Hand for its other dark beer—Nitro Milk Stout, a classic—and if you're a fan of smooth and creamy roasty beers, this porter should be on your radar.
Its aroma offers up considerable nuttiness, almost like a northern English brown ale. Those almond notes are complemented by toffee, caramel, bittersweet chocolate, and a base of sweet pumpernickel bread. You know the soft, sweet brown bread at Outback Steakhouse? That kind of pumpernickel.
The sip is likewise bready-nutty, but with a smooth cafe-au-lait roast and milk chocolate accent that definitely puts it in porter territory. Still, it's one of the softer and milder porters I've had recently, wonderfully free of the astringency that can come from too much black malt. The beer's body isn't so big as to seem filling, but it's best described as smooth, like an iced coffee. Actually, this beer reminds me a bit of a slightly hazelnut-ty iced coffee: quietly bitter, but still slightly sweet and roasty.
I'm not sure what the name Death Before Disco is supposed to signify, but I imagine it's a rallying cry for the rock 'n' roll set, the old-school people who don't chase every shiny fad out there. That's what this beer is like, anyway: A solidly constructed, classic style that isn't trying to squeeze in the trendiest hops or four kinds of tropical fruit. I'll drink to that, even when it's 75 degrees.
Where to get it
Left Hand beers are available in most states; check the brewery's beer-finder tool here.
---
Have a beer you think should we should consider for inclusion in an upcoming Beer of the Week column? Email details to beer@thetakeout.com.