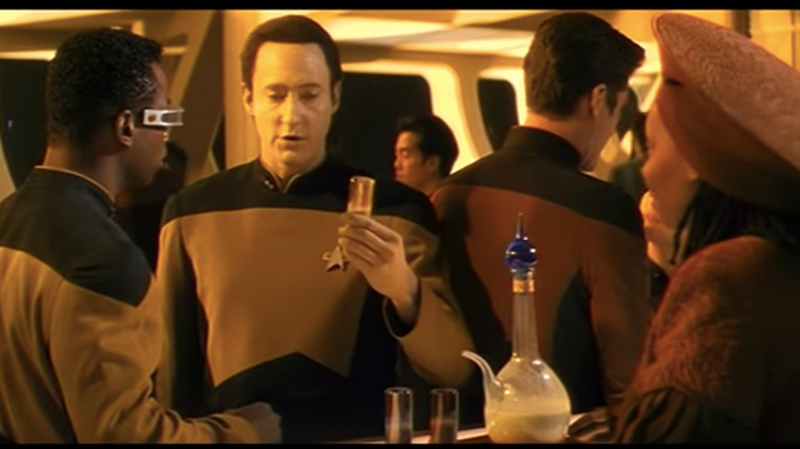 Space is cool. Sending stuff to space is cool. Studying space is cool. Telling stories about space is cool. And booze is pretty cool, too. So why—tell me, really—am I so thoroughly underwhelmed by the idea of Ten-Forward Vodka?
We at The Takeout are big Channing Tatum fans. The dancing! The self-deprecation! More dancing! 21 Jump Street! This! All good things.

Ketel One has taken a bold step forward into the calorie count-friendly landscape with a new line of diet vodka. A 1.5 oz. shot of Ketel One Botanicals clocks in at 73 calories, which is 25 percent less than the brand's standard line. That figure is also roughly 40 percent less than a glass of white wine, and about 56…
Milk vodka. Milk? Vodka? Milk-vodka. No matter how I type this phrase, it just doesn't seem right. But hey, celebs will try any new luxury spirit if someone tells them it's hip and British, I guess. Forbes reports that a bunch of stars like Orlando Bloom, Christina Hendricks, and Chris Pine recently attended a party…
The U.K.'s Express reports that vodka is the most regifted booze in Britain during the holidays, with three million bottles hastily rewrapped and foisted upon friends each year. We'd bet Americans do the same.
With her home base Sportsman's Club located in a once-Polish neighborhood in Chicago, bartender Laura Kelton created this variation on the Dark & Stormy cocktail using a Polish bison grass vodka in place of the traditional rum.