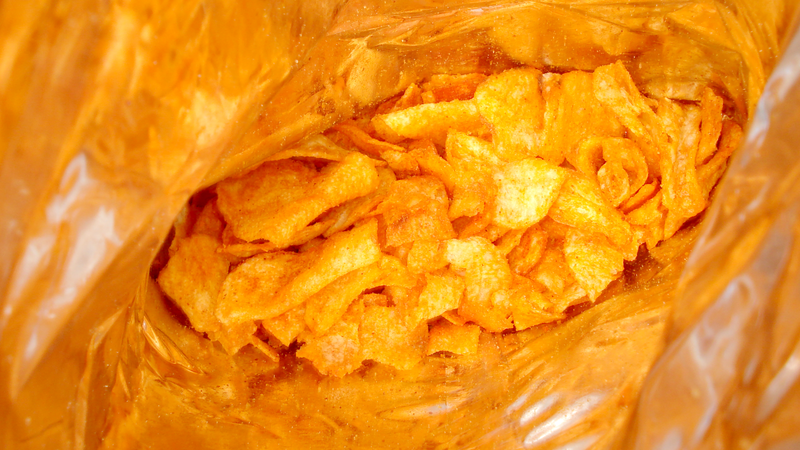 If we learned anything from LadyDoritoGate, it's that women hate dumping chip crumbs into their wide-open mouths. But maybe this has nothing to do with keeping up appearances; maybe these savvy women are saving the crumbs for clever, delicious uses.
In How Do You Take Yours?, The Takeout solicits staff and outside expertise for secret tips on improving one dish.
Original Prongles, a wart hog-emblazoned brand of chips in a very familiar cylindrical can was released this past week as something of a social media mystery. Who was behind such this fun, zesty, delicious-verging-on-copyright infringing snack? Internet sleuths eventually figured out the strange minds behind the game …
In its latest attempt to replace all foods with processed potato product, Pringles takes on Thanksgiving dinner with eight different flavors—turkey, stuffing, mashed potatoes, green bean casserole, pumpkin pie, cranberry sauce, macaroni and cheese and creamed corn. We'd say grace first, but no.
Trader Joe's is the rare American grocer to adopt the British obsession with offbeat potato chip flavors. Recent years have seen TJ's introduce something called South African style (smoked paprika and garlic powder), Sriracha, ghost pepper, honey butter, among other flavors more appreciated outside the U.S. I've…
In Fran And Cameron Eat On The Company Dime, A.V. Club staffers Fran Hoepfner and Cameron Scheetz eat on the company dime. This week, our resident and compulsive snacker critics got their hands on the three finalists from Lay's 2017 "Do Us A Flavor" contest. This year's flavors are everything bagel with cream cheese,…
Let's imagine ourselves at Kettle Brand potato chips headquarters in Salem, Oregon. The end of the fiscal year approaches, and Kettle knows it needs a big hit to meet its annual sales goals. One eager marketing associate, just a few years out of college—let's call him "Miles"—speaks up, his young, confident voice…
Every year, a group of A.V. Club writers descends on the Sweets & Snacks Expo, ready to perform some powerhouse journalism. The trade show—put together by the National Confectioners Association—gathers candy- and snack-makers big and small, assembling them in a giant convention hall, where they battle it out for snack…