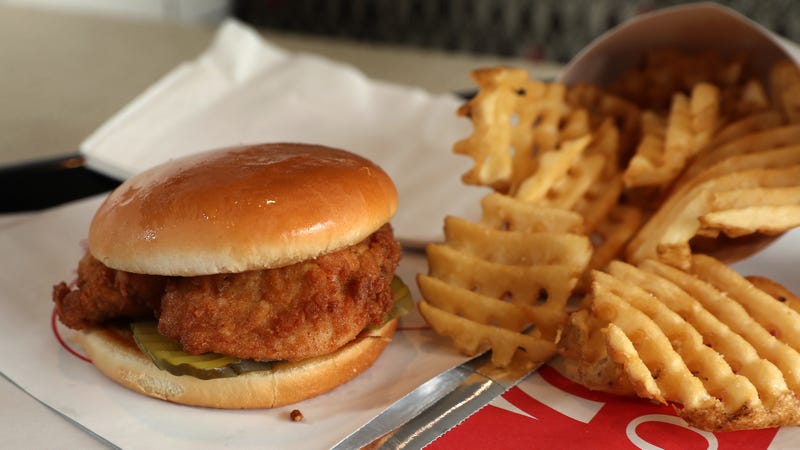 Imagine you're Gracelyn Griffin, born Tuesday in San Antonio, 16 years into the future. She walks into a Chick-Fil-A with friends, they're ordering fried chicken sandwiches and her pals reach for their wallets. Griffin holds up a hand and just says: "I got this." Her friends shoot a puzzled look and ask: "How?"…
In college, a mentor sat me down for a chat. She told me if I wanted to make it as a theater director (those were the days), I only needed to know two things. First, I had to work harder than anyone else. And second, and more importantly, she said, "Never turn down free food." I took that advice to heart. I love free…
There exists an annual report known as the American Customer Satisfaction Index's Restaurant Report, in which survey proctors ask 22,500 Americans (!) about their experiences at various chain restaurants. Customers are asked to rate restaurants on a scale of 0 to 100 in categories such as food accuracy; waitstaff…
Determined as we are to find some feel-good stories to wrap up this hell week, we were happy to find this tale of a hometown hero at a Chick-Fil-A in Austin, Texas. When an elderly diner began choking in the restaurant, another customer quickly started giving him the Heimlich maneuver. When that failed to dislodge the…
Our president is sucking up to a murderous dictator; Florida recently had a devastating multi-fatality school shooting; and children are being ripped away from their parents at America's border. So, Florida Senator Marco Rubio, you must have a lot of issues to juggle—what's at the top of your agenda?

The low unemployment rate has not been the best news for fast-food owners. Historically, high-school kids have flipped burgers for an after-school or summer job while saving up for a used car or clothes at Forever 21. But now that those jobs are so plentiful, unskilled workers can apparently pick and choose; a recent …
Some people get really manic about their Chick-Fil-A, and as we've seen, some do not. But a survey of the company's 10 most-purchased items, as featured on the Today show this week, is a bit puzzling. The branch's beloved lemonade, for example, is all the way down at number six. Soda is number two, which sort of makes…
Maybe it was a case of overselling. After all, Chick-Fil-A fans are passionately rabid about their favorite fast-food sandwich, creating lines out the door to wait for a coveted space at the counter. So when Business Insider gathered up a bunch of millennials who hadn't ever tasted Chick-Fil-A before for whatever…
It's something I hadn't even really thought about until this Business Insider video pointed it out: The vast majority of fast-food logos are red-based. The educational (yet under-four-minute) video also outlines that there are reasons for that that go back thousands of years.

Millennials, your day may be done. Lest we forget, there's a whole new burgeoning generation for marketers to freak out over: Generation Z. So twice a year, CNBC offers Piper Jaffray's Taking Stock With Teens study. The most recent version, which just came out this week, contains some surprising factoids about the…
America is fast food. In those two words we have synthesized our collective dietary philosophy to the core: Food, fast. Nevertheless, we seem to resist admitting that much of it is delicious—or at the least, animalistically pleasurable. Put in front of us a bowl of spring onion vichyssoise or a plate of Jack In The…