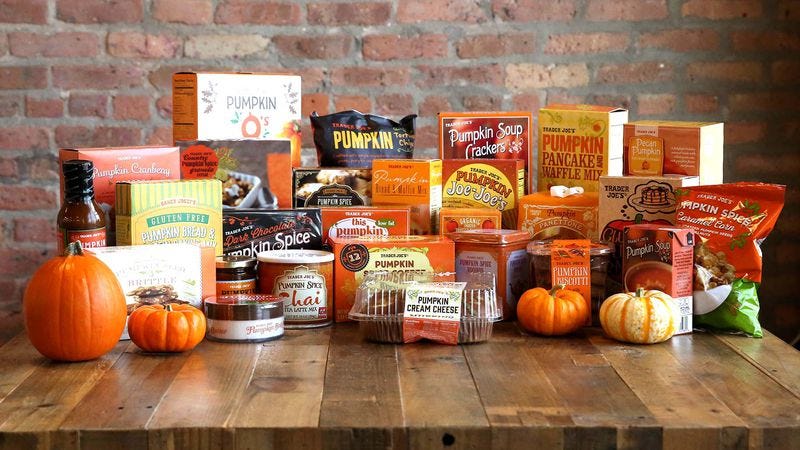 Acquired Tastes
In Acquired Tastes, The Takeout explores the food and drinks we can't live without.
Every month has its own particular flavor. December tastes like candy canes and hot cocoa. March tastes like Shamrock shakes. July is hot dogs and grill char. Then there's October, when everything is suddenly covered in goddamn pumpkin spice. Who would've thought pumpkin would become such an omnipresent gourd? It's a nearly inedible fruit whose flesh is eaten only out of desperation, and it requires a sinus-clearing amount of spices just to choke it down.
This particular spice combination—cinnamon, nutmeg, allspice, cloves, ginger—has been in existence as long as American grandmas have served pumpkin pie. But at some point, likely with Starbucks' 2003 introduction of the pumpkin spice latte, it achieved a new, weird intensity of American obsession. You know something's popular when it inspires prophylactic parody.

Trader Joe's, America's lifestyle blogger-turned-grocer, hasn't just embraced pumpkin spice season. In many ways, it's become its chief marketing agency. Walk into one of its stores this time of year and your retinas may readjust to a permanent orange: It's a veritable pumpkin bacchanal inside, where no product is safe from being blanketed in its autumnal spicing. Recently I wandered into my neighborhood T.J.'s in search of a few pumpkin-flavored items to test; I walked out with 33. Here I present a random sampling of all the pumpkin spice things I could get through before I'd had enough.
Pumpkin Spice Caramel Corn
Here's a good example of pumpkin spice not smothering something with its sickly sweetness. The cinnamon and clove lays low in the background, balanced by the salt-and-crunch of pumpkin seeds, walnuts, and caramel popcorn.

Country Pumpkin Spice Granola Cereal
This is the same basic idea as the caramel corn, but for breakfast. Here the sweetness doesn't come solely from the pumpkin spice, as it's layered in with coconut, honey, and the cold milk you pour. I enjoy the texture variance, from the crunchy oats to the chewy raisins.
Pumpkin Panettone
This is essentially a round buttery brioche loaf, with a lightly spiced, airy, but somewhat dried crumb interior (like a Parker House roll) and creamy nuggets of candied pumpkin embedded. Panettone is a beloved style of Italian cake, though most Americans would probably regard this particular version as "bread."
Pumpkin Spice Coffee (Keurig pods)
This is… not good. It's artificial tasting, yet with little discernible spice. It also smells earthy, mulchy, and vaguely of compost—like coffee brewed in a hippie commune.

Pumpkin Vinaigrette
This is a fine, well-balanced salad dressing, an assessment I offer purely on the basis of it not tasting like pumpkin spice. The sweetness comes from actual pumpkin puree—and even if you don't like the taste of pumpkin, it's concealed behind the balsamic vinegar and Dijon mustard. I would drizzle this over arugula, blue cheese, and walnuts.

Pumpkin Body Butter
Among the three dozen ingredients listed in this "luxurious" body cream are pumpkin seed oil, grapefruit, orange peel, rosemary, raspberry, ginger, bananas, guava, lemongrass, papaya, coconut oil, kelp, and watercress. It sounds like a Jamba Juice smoothie, and it smells like a holiday candle from a Cost Plus World Market. Still, if you can get past the sense memory of your Aunt Eileen's guest bathroom, it does keep your hands soft.

Pumpkin Tortilla Chips
These snacks have the aroma of churros, brown sugar, and cinnamon. But bite it and—bait and switch—your palate is hit with pure salt. It's like a nutty, less savory Sun Chip, with an earthiness from the pumpkin puree and a heady nutmeg waft that would pair well against stronger salsas.

Pumpkin Macarons
These have a decent, crispy-then-melting texture in their almond meringue. But the pumpkin-flavored filling is cloyingly sweet. No thanks.

Pumpkin Organic Frosted Toaster Pastries
These are a flaky, buttery pastry (our suggestion is to toast on lowest setting so it doesn't burn). But again, the pumpkin-flavored filling is cloyingly sweet. Pass.

Pumpkin Spice Salted Caramels
Here's a patisserie-respectable chocolate exterior, with a pronounced hit of Hawaiian pink salt that coats the palate. But the pumpkin-flavored filling is—you guessed it—cloyingly sweet. Nope.

Pumpkin Spice Scone Mix
We probably added too much liquid in the initial mix, so these scones ended up being not very scone-like—they were better. Out of the oven, these have a uniform crisped texture along the edge, with a warm, moist, almost gingerbread center, reminiscent in texture to a muffin top. A drizzle of maple-flavored icing brought a welcome richness. The minimal effort that went into making these scones (the only additional ingredient is water) didn't really deserve the amount of praise they yielded. Of all the pumpkin products sampled, this was easily the best.

Pumpkin Cream Cheese Muffins
On the opposite end of the spectrum, these already-baked muffins were dense, edging on gummy, with a heavy spiced aftertaste. The cream cheese must have been the F.D.A. minimum to legally advertise as having cream cheese—a thimble's worth, notched in the center. Still, they also say "pumpkin" on them, which—this month, at least—is enough to make a sale.